CLOSER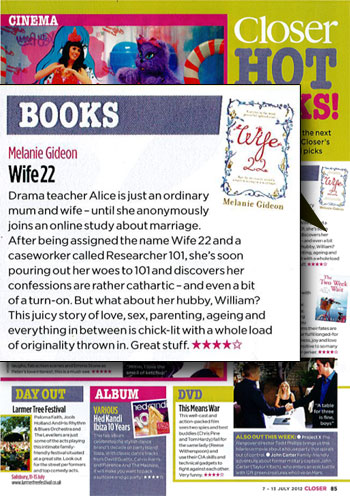 ---
EASY LIVING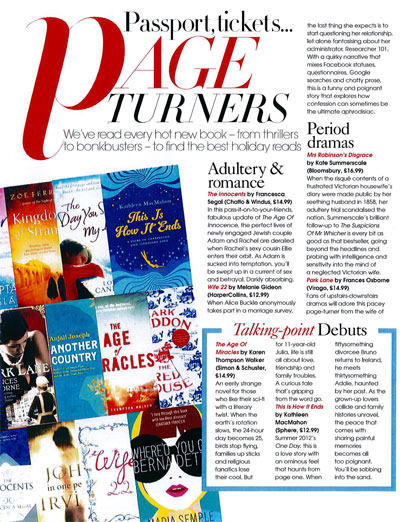 ---
NEWS LETTER (BELFAST)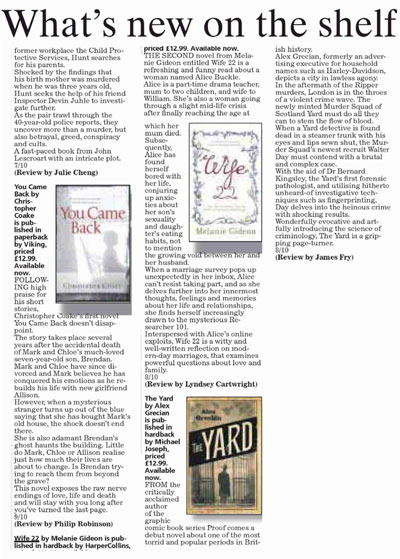 ---
RED 
---
SAINSBURY'S
---
STYLIST
---
COASTAL LIVING
---
TIMES RECORD NEWS (WICHITA FALLS, TEXAS)
July 8, 2012 Sunday
Gideon has written "Wife 22" as mainly a series of conversations between Alice and Researcher 101, with Alice's answers to questions sprinkled in. It is really quite an ingenious way to tell a story, and Gideon should be commended. "Wife 22" moves fairly quickly and has a delightfully surprising twist at the end. This book is perfect for those long, hot summer days when you just need something light and fun to read.
---
NPR: LAUGHING MATTERS – FIVE FUNNY BOOKS WITH SUBSTANCE
by Heller McAlpin
Melanie Gideon hits the refresh button on midlife crises with this comedy of manners about an Oakland couple increasingly estranged by electronic media as they approach their 20th anniversary. Bored and vaguely discontented with her life, Gideon's appealing narrator takes part in an online survey about the state of marriage in the 21st century, for which she's dubbed Wife 22. She finds the anonymity liberating — and her assigned researcher alarmingly attractive. Before you know it, she's up against the wall — the Facebook wall, that is, where she and Researcher 101 have set up special accounts to facilitate their flirtatious communication. Wife 22 is Gideon's follow-up to The Slippery Year, her sparkling book of personal essays, also about middle-age ennui. It channels the playful but incisive vibe of Nora Ephron's You've Got Mail while exploring questions about how to keep long relationships as compelling as status updates.
---
BETTER HOMES AND GARDENS
---
WOODBURY MAGAZINE

"What is so perfect about bestselling author Melanie Gideon's first novel is its uncanny ability to mimic your life…WIFE 22 is the conversation that is in the back of so many women's minds but never started. It entertains while challenging you to think about the important things that are too often pushed under the rug."
---
USA TODAY – WEEKEND BOOK PICKS: 'WIFE 22'
WHAT SHOULD YOU READ THIS WEEKEND?
Wife 22
By Melanie Gideon; Ballantine, 380 pp., $26; fiction
When Alice Buckle is invited to participate in an anonymous marriage survey, all she has to do is answer a caseworker's questions. His name: Researcher 101. Her research name: Wife 22. What happens when she begins admitting her life's secrets as she answers his ever-growing list of probing questions?
USA TODAY says *** out of four. "Moves along quickly because of one question that needs to be answered: Do Wife 22 and Researcher 101 ever get together? You'll be surprised."
---
JULY O MAGAZINE
---
WASHINGTON POST
'Wife 22,' by Melanie Gideon: Marriage in the age of social media
By Heller McAlpin, Published: June 7
E.M. Forster's familiar mandate "only connect" takes on new shades of meaning in our age of electronic hyper-connectivity. With this well-chosen epigraph, Melanie Gideon establishes the wry tone of her amusing first novel for grown-ups. "Wife 22" is about the growing disconnect between an Oakland, Calif., husband and wife. More and more, Facebook and texting interfere with true communication as they approach their 20th wedding anniversary. This modern-day, mixed-media comedy of manners is as up-to-the-minute as your favorite Twitter feed.Gideon's appealingly forthright narrator, Alice Buckle, is the 44-year-old wife of a handsome advertising executive. They have two adolescent children. She is also a frustrated playwright and part-time elementary school drama teacher. She's struggling with the same vague "unrelenting, existential kind of emptiness" that the author wrote about so successfully in "The Slippery Year" (2009), her endearingly self-deprecating book of personal essays about carpool catatonia and other modern sources of ennui. Bored, vaguely discontented with her life and about to hit the "tipping-point year" that marks the age at which her mother died, Alice decides to take part in an online survey about the state of marriage in the 21st century. Dubbed Wife 22, she finds the anonymity liberating. But she becomes increasingly enamored of her assigned researcher. He not only asks the searching questions that her husband, William, no longer bothers with, but he pays attention to her answers.
Wife 22 soon finds herself up against the wall with "Researcher 101" — the Facebook wall, that is, where they've set up accounts using characters' names from their favorite books to facilitate communication. Under Relationship Status, he writes, "It's complicated," and then explains, "Married, questioning, hopeful." Later, when Alice asks why he has posted a photo of his hand, his response calls into question the integrity of the survey and raises an armada of red flags: "Because I wanted you to imagine it on the back of your neck."
Oh, my. Could this be part of a psychology experiment? Or is poor Alice the victim of a scam? Whatever it is, we well understand her eagerness to check her Facebook feed continually.As anyone who has ever been seduced by an epistolary or e-mail flirtation knows, it's easy to mistake this sort of exhilarating, limited connection for real intimacy. Gideon plays with the divide between virtual reality and IRL — In Real Life — noting how when communicating online in short phrases, "There's no way to judge tone." Her characters' missteps highlight the dangers of inadvertent overexposure when using social media. Attempting a "digital diet," Alice muses, "When did the real world become so empty? When everybody abandoned it for the Internet?"Gideon keeps things lively by jumping between Alice's exchanges with friends and family, both online and in person, and her alternately thoughtful and terse answers to the online questionnaire (whose questions are coyly hidden from us until much later). But, as with most content on the Web, there's excess. The descriptions of Alice's bereavement support group (30 years after losing her mother) and a series of potluck dinners are eminently expendable. And the introduction of Alice's best friend, a divorce lawyer who's about to marry her lesbian lover, makes Gideon seem to be trying to cover too many bases.But even with these surpluses, "Wife 22" channels the playful but incisive vibe of Nora Ephron's "You've Got Mail." Like Ephron, Gideon is especially adept at puncturing contemporary vanities, with sharp riffs on bikini waxes and the "ego surfing" of self-Googling. Hilariously, Susan Boyle's "I Dreamed a Dream" blares every time Alice starts her car, and a six-month wait for a dermatology mole-scan appointment is magically reduced to a few days if she's willing to consider injectables. "Men don't wear lavender," William objects when she buys him a pale purple shirt. "Yes, but men wear thistle," she responds, and then comments triumphantly: "Sometimes all you need to do to get men to agree with you is call things by another name."Keeping a long marriage fresh can be more complicated, however. Readers will relate to Alice's plaint: "I want to have a conversation with my husband that goes deeper than insurance policies and taxes and what time will you be home and did you call the guy about the gutters, but we seem to be stuck here floating around on the surface of our lives like kids in a pool propped up on those Styrofoam noodles."In the crowded pool of novels about midlife crises, "Wife 22" has the buoyancy of water wings.
---
JUNE 18, PEOPLE MAGAZINE
---
USA TODAY
'Wife 22': Taking the tally on an unhappy marriage
By Craig Wilson, USA TODAY
June 03, 2012
So you've been married for what seems like forever. You still love your spouse, but things have gotten, let's say, a bit stale.
You see a notice in your spam folder and, well, it changes your life. Who knew? Not Alice Buckle, the protagonist in Melanie Gideon's debut novel, Wife 22.
What Buckle finds is an invitation to participate in a marriage survey. Better yet, an anonymous marriage survey. All she has to do is answer a caseworker's questions. His name: Researcher 101. Her research name: Wife 22.
And away Alice Buckle goes, admitting to him, a complete stranger, her life's secrets as she answers his ever-growing list of probing questions. Can a little flirting turn into an obsession? She soon finds out.
The survey works. So does the book.
Library Journal puts Wife 22 in the same chick-lit world as Helen Fielding's Bridget Jones's Diaryand Anna Maxted's Getting Over It.
It's better, mainly because Gideon's story is not just about a tired marriage or the worn-out drama of a single girl's life. No, she touches on everything from family life in the 21st-century to Facebook friends and the painful act of "Googling" yourself.
Cleverly she breaks up her chapters with Google searches, Yahoo forums, Facebook postings, along with e-mail and tweet exchanges that read so true it's hard to believe they're fiction. Maybe they aren't.
Throughout, Buckle gives the answers to Researcher 101's questions without listing what the questions are. But you know.
The book moves along quickly because of one question that needs to be answered: Do Wife 22 and Researcher 101 ever get together?
You'll be surprised.
---
SAN FRANCISCO CHRONICLE REVIEW
"Wife 22″ is a delightful, thoroughly modern, guilty pleasure of a read." "That Gideon can take all-too-familiar elements and craft them into something fresh and funny is a tribute to the humor and imagination she brings to the telling of the tale." "Gideon's skill and style reveal her to be a first-time novelist with a promising fiction future."
---
HOLLYWOOD REPORTER: 10 BEST HOLLYWOOD BEACH READS
Wife 22
Melanie Gideon; Ballantine, 400 pages, May 29.
Film rights to Working Title.
Who it's by: The author of the best-selling memoir The Slippery Year, in her fiction debut. What it's about: Alice Buckles is having a midlife crisis. She has reached the same age her mother was when she died, her marriage has hit a lull and her kids are a mess. She re-examines her life after participating in a survey of middle-aged married women and starts flirting with the researcher conducting the survey. Cleverly told in part through texts and e-mails, Wife 22promises, "Confession is a powerful aphrodisiac."
Bottom line: An Internet-age spin on a Bridget Jones-like character's midlife crisis could be the anti-Fifty Shades of Grey chick-lit hit of the summer.
---
STARRED REVIEW, LIBRARY JOURNAL, APRIL 1, 2012
Gideon, Melanie. Wife 22. Ballantine. Jun. 2012. c.400p.ISBN 9780345527950. $26. F Library Journal
Chick-lit fans over the age of 30 will want to rush home from work, kick off their shoes, mix themselves tart cocktails, and settle down to read this wry debut novel by the best-selling author of The Slippery Year: A Meditation on Happily Ever After. Alice Buckle, a 44-year-old from Massachusetts, has been living in the San Francisco Bay Area for years when she realizes she and her husband have drifted apart while advancing their careers (mostly him) and raising their children (mostly her). Dissatisfied, Alice agrees to participate in a marriage study and, as "Wife 22," is paired with "Researcher 101." After weeks of anonymously sharing increasingly intimate details about her marriage, Alice begins to feel that Researcher 101 understands her better than her own husband does.VERDICT Peppered with Facebook updates, email messages, and chat logs, this book is a skillful blend of pop-culture references, acidic humor, and emotional moments. It will take its rightful place in the chick-lit canon alongside Helen Fielding's Bridget Jones's Diary, Anna Maxted's Getting Over It, and Allison Pearson's I Don't Know How She Does It. [See Prepub Alert, 12/12/11.]—Laurie A. Cavanaugh, Wareham Free Lib., MA
---
STARRED REVIEW PUBLISHERS WEEKLY
 Wife 22
Melanie Gideon. Ballantine, $26 (400p) ISBN 978-0-345-52795-0
In her superb first novel, Gideon (The Slippery Year: A Meditation on Happily Ever After, a memoir) artfully traces the contours of a dull marriage in the age of Facebook. Alice and William Buckle start out happy, but two kids and nearly 20 years later, Alice is bored and desperate for stimulation. When she gets an e-mail asking her to participate in a study about modern marriage, Alice impulsively agrees. Dubbed "Wife 22" and assigned a caseworker called "Researcher 101," Alice begins answering his probing questions (though readers are usually privy only to her responses), rendering Alice and her marriage in impressionistic strokes vibrantly textured with succinct, revealing details: "15. Uncommunicative. Dismissive. Distant. 16. The Lion, the Witch and the Wardrobe"). However, as the confessions pour forth, Alice and Researcher 101's relationship takes a romantic turn. Comprising a tapestry of traditional narrative, e-mails, Facebook chats, and other digital media, Gideon's work is an honest assessment of a woman's struggle to reconcile herself with her desires and responsibilities, as well as a timely treatise on the anonymity and intimacy afforded by digital communiques. Fully formed supporting characters and a nuanced emotional story line make Gideon's fiction debut shimmer. Agent: Elizabeth Sheinkman, Curtis Brown. (June)